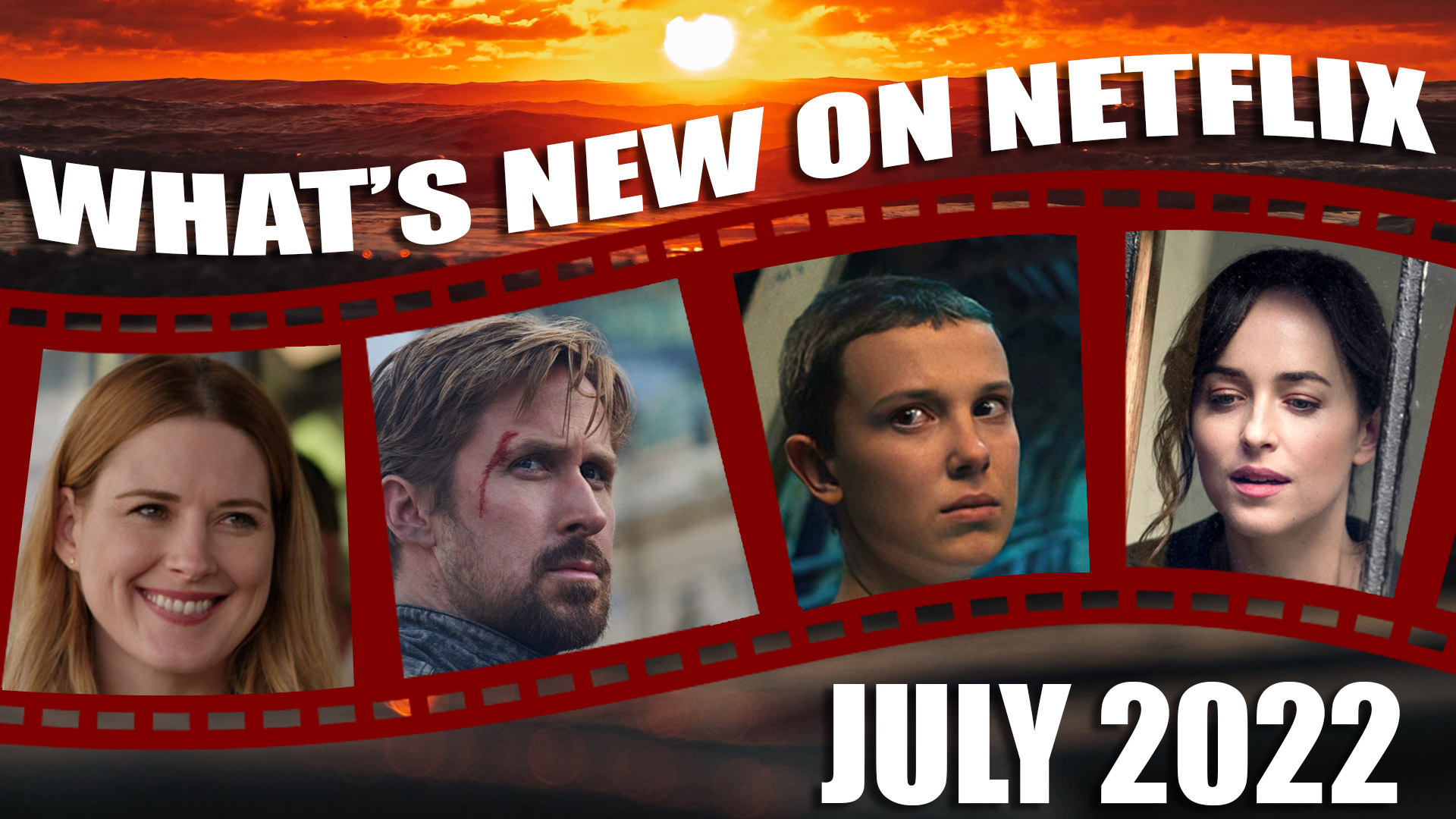 This July on Netflix you'll find new episodes of fan favorite series such as Stranger Things and Virgin River, as well as new movies starring Ryan Gosling, Chris Evans and Dakota Johnson. True crime fans have several documentaries to look forward to, and parents will find plenty for their little ones to enjoy. For more on the best of the original programming this month, click here to scroll through our Netflix July 2022 photo gallery. ~Alexandra Heilbron

New and Returning Series

Stranger Things 4: Volume 2 - July 1
Although our beloved group of teens is split up, they must come together to save Hawkins from the horrors of the Upside Down. Meanwhile, Hopper (David Harbour), Joyce (Winona Ryder) and Murray (Brett Gelman) try to find a way out of Russia, and the ghastly claws of the Demogorgon.

Boo, Bitch - July 8
Two senior BFFs (Lana Condor, Zoe Colletti) who've flown under the radar at their school make a last-ditch attempt to be seen. But when one of them becomes a ghost following a tragic accident, she'll need to live her best life — while she can.

Resident Evil - July 14
Years after a viral outbreak caused a global apocalypse, Jade Wesker (Ella Balinska) vows to bring down those responsible while fighting to survive against the Infected.

Virgin River: Season 4 - July 20
As Mel (Alexandra Breckenridge) navigates her new reality, Jack's (Martin Henderson) past threatens his future and new faces arrive to stir things up in Virgin River.

Uncoupled - July 29
When his boyfriend of 17 years abruptly moves out, New York City real estate broker Michael (Neil Patrick Harris) faces the prospect of starting over as a single man in his 40s.

New Films

Hello, Goodbye, and Everything in Between - July 6
Clare (Talia Ryder) and Aidan (Jordan Fisher) make a pact to break up before college — no regrets, no broken hearts. But will one epic goodbye date offer them a last chance at love?

Persuasion - July 15
Eight years after Anne Elliot (Dakota Johnson) was persuaded not to marry a dashing man of humble origins, they meet again. Will she seize her second chance at true love?

The Gray Man - July 22
When the CIA's top asset, known only as Court Gentry (Ryan Gosling), uncovers incriminating agency secrets, his psychopathic former colleague Lloyd Hansen (Chris Evans) puts a bounty on his head. Now the target of a global manhunt by international assassins, Gentry is forced to go on the run.

Purple Hearts - July 29
In spite of their many differences, Cassie (Sofia Carson), a struggling singer-songwriter, and Luke (Nicholas Galitzine), a troubled marine, agree to marry solely for military benefits. But when tragedy strikes, the line between real and pretend begins to blur.

Documentaries

Girl in the Picture - July 6
In this documentary, a woman found dying by a road leaves behind a son, a man claiming to be her husband — and a mystery that unfolds like a nightmare.

My Daughter's Killer - July 12
In 1982, André Bamberski's daughter Kalinka died while living with her German stepfather, Dieter Krombach, a doctor and serial rapist. Because of international procedural laws, Krombach's conviction was overturned, prompting Bamberski to take extreme measures and arrange an abduction. A true crime documentary.

D.B. Cooper: Where Are You?! - July 13
In 1971, a skyjacker parachutes off a plane with a bag of stolen cash — and gets away with it. Decades later, his identity remains a compelling mystery.

Never Stop Dreaming: The Life and Legacy of Shimon Peres - July 13
In politics, most pursue power. He pursued peace. Shimon Peres's influence and integrity were instrumental in the founding and preservation of Israel.

The Most Hated Man on the Internet - July 27
This new documentary series chronicles a mother's crusade against a self-proclaimed "professional life ruiner" named Hunter Moore who found fame by creating a notorious "revenge porn" hub, a site dedicated to posting explicit photos of men and women, without consent.

For Kids

Karma's World: Season 3 - July 7
From making new friends to standing up for what's right: Karma grows as a daughter, sister, artist and more with new rhymes and lots of fun times!

Kung Fu Panda: The Dragon Knight - July 14
Legendary warrior Po teams up with an elite English knight on a global quest to rescue magical weapons, restore his reputation and save the world!

My Little Pony: A New Generation: Sing-Along - July 18
A young pony makes a herd of new friends on a quest to bring magic back to her world in this sing-along version of My Little Pony: A New Generation.

StoryBots: Laugh, Learn, Sing: Collection 2: Learn to Read - July 18
Follow StoryBot pals Beep, Boop, Bing, Bang and Bo through three volumes of snack-sized early reading lessons set to a soundtrack of catchy tunes!

Jurassic World Camp Cretaceous: Season 5 - July 21
The family-friendly animated series set in the world of the hit franchise returns for a new season.

July 1
A Call to Spy
Big Daddy
Blue Jasmine
Boogie Nights
Catch Me If You Can
The Dark Knight Rises
Deliverance
The Dirty Dozen
Falls Around Her
Final Score
GoodFellas
I Am Legend
Insidious
LOL
Mean Girls
Miss Congeniality 2: Armed and Fabulous
Natural Born Killers
Old School
Police Academy
The Pursuit of Happyness
Semi-Pro
Seven
Snatch
Stranger Things 4: Volume 2
The Talented Mr. Ripley
The Terminal
Vampires
Wyatt Earp
Zero Dark Thirty

July 3
Blair Witch (2016)

July 4
Leave No Trace

July 6
Control Z: Season 3
Girl in the Picture
Hello, Goodbye, and Everything in Between
King of Stonks
Uncle from Another World

July 7
The Flash: Season 8
Karma's World: Season 3
VINLAND SAGA: Season 1

July 8
Boo, Bitch
Capitani: Season 2
Dangerous Liaisons
How to Build a Sex Room
Incantation
Jewel
The Longest Night
Ranveer vs Wild with Bear Grylls
The Sea Beast

July 10
12 Strong

July 11
For Jojo
Valley of the Dead

July 12
Bill Burr: Live at Red Rocks
How to Change Your Mind
My Daughter's Killer

July 13
Big Timber: Season 2
D.B. Cooper: Where Are You?!
Hurts Like Hell
Never Stop Dreaming: The Life and Legacy of Shimon Peres
Sintonia: Season 3
Under the Amalfi Sun

July 14
Kung Fu Panda: The Dragon Knight
Resident Evil

July 15
Alba
Country Queen
Farzar
The Foreigner
Love Goals (Jaadugar)
Mom, Don't Do That!
Persuasion
Remarriage & Desires

July 18
Live is Life
My Little Pony: A New Generation: Sing-Along
StoryBots: Laugh, Learn, Sing: Collection 2: Learn to Read
Too Old for Fairy Tales

July 19
David A. Arnold: It Ain't For the Weak

July 20
Bad Exorcist: Seasons 1-2
Virgin River: Season 4

July 21
Jurassic World Camp Cretaceous: Season 5

July 22
Blown Away: Season 3
The Gray Man
ONE PIECE: New Episodes

July 25
Gabby's Dollhouse: Season 5

July 26
August: Osage County
DI4RIES
Shania Twain: Not Just a Girl
Street Food: USA

July 27
Car Masters: Rust to Riches: Season 4
Dream Home Makeover: Season 3
The Most Hated Man on the Internet
Pipa
Rebelde: Season 2

July 28
A Cut Above
Another Self
Keep Breathing
Oggy and the Cockroaches: Next Generation

July 29
The Beauty Queen of Jerusalem: Season 2
Case Closed: Zero's Tea Time
The Entitled
Fanático
Purple Hearts
Rebel Cheer Squad: A Get Even Series
Uncoupled

July 31
The Wretched

Last Call

Leaving 7/1/22
The Social Network
Star Trek: Deep Space Nine: Seasons 1-7
We Have Always Lived in the Castle

Leaving 7/6/22
Brick Mansions

Leaving 7/7/22
Home Again
Midnight Sun

Leaving 7/11/22
The Strangers: Prey at Night

Leaving 7/14/22
The Brave

Leaving 7/15/22
Radium Girls

Leaving 7/19/22
Annabelle: Creation

Leaving 7/21/22
Chicago Med: Seasons 1-5

Leaving 7/23/22
Django Unchained

Leaving 7/25/22
Banana Split

Leaving 7/31/22
21
30 Rock: Seasons 1-7
The Edge of Seventeen
Forrest Gump
Friday the 13th
The Haunting in Connecticut 2: Ghosts of Georgia
Lean on Me
Little Women
Love Actually
My Girl
Poms
Texas Chainsaw 3D
You've Got Mail